Resume Writing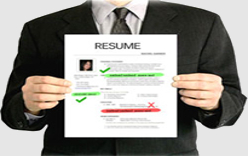 Many senior professionals have the habit of just adding a line to their resume every time they change a job. They feel no need to have a re-look at their whole resume for years together. Only when they stop getting interview calls that they realize that something big is missing in their resume. By that time it is too late to catch up with the lost time and opportunities.
A simple solution to this risk to seek professional help from an expert who has spent years together in screening resumes and conducting interviews. Why go in for a patch-work to improve your resume, when an expert can do it for you.
Who will write your resume

The Founder Director S.C. Kalia has personally screened over half a million resumes in the past 25 years. Besides this, he has conducted at least five thousand interviews for recruitment at various levels. During these two and half decades he has handled various facets of Human Resource in ONGC, Jindal, Total Oil and Knights & Bishops ®. He will personally go through your resume, evaluate it, speak to you and revamp the entire resume.The resume will be re-written in close coordination with you. The process is explained below:
The Process:
a. Send your existing resume by email at info@knightsandbishops.com. Mention "Resume Rewriting" in the subject line and attach the resume as a word document.
b. Make payment as explained below.
c. We will call you over the phone and also contact by an email.
d. Once the payment is received, our Expert will contact you over the phone to discuss your resume and take the required inputs from you.
e. A draft Resume will be sent to you for approval. In case any amendment is needed, our Expert will again call you to seek your reply. The process will be continued till you approve the final version of the Resume.
f. The final version of the Resume will be sent by email as well as by post as a hard copy at the desired address.
Time Frame:
Two Business Days after the receipt of the payment.
Professional Fee:
INR 2225 (Service Tax @ 12.36% amounting to INR 275 to added)
Note: Candidates residing abroad are required to bear the ISD call charges.