Recruitment Services
Recruitment is a specialized field that requires a clear understanding of our client's business before we take even the first step. Our back-end research experts have through domain knowledge of engineering, chemical, insurance and energy sectors. Empowered with domain knowledge our head hunters appreciate the business nuances of our clients. They have an eye to search for competent people . This ensures that only the serious candidates are presented to the clients. Needless to say that these candidates have to be technically qualified to match the job specifications provided by our client. The filtration process of the candidates is structured in such a way that our clients have to spend minimum effort in screening the candidates.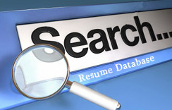 The search process starts by searching the relevant career profiles in our existing database of candidates. Advertised search is done only for specialized positions and with prior consent of our client. We maintain full confidentiality in the entire recruitment process so that the interests of the client remains protected in all ways.
For Senior Management positions, we undertake focused company specific search. These types of sensitive headhunting assignments are managed in a discreet manner to ensure that the candidates remain comfortable in dealing with our clients.
In order to assess the suitability of the candidates, we either meet the candidates or conduct video interviews before presenting them to our clients. Only on selected occasion, telephonic probing is relied upon.
Reference checks are done with previous employers of the selected candidates. This is done to ensure that the selected candidate has a clean career record and an undisputed integrity.
We hand-hold the selected candidates which facilitates minimum dropouts between the time of making a job offer and actual joining of the candidate.
To ensure a strong bonding between the newly joined candidate and our client, we do constant post-placement follow up. This helps in the smooth integration of the new employee with the Company.
Why wait any longer. In case you have a manpower requirement, simply pick up your phone to call us or send us an email at info@knightsandbishops.com . Our Client Service Staff will immediately contact you.